I still haven't caught up on writing dress diaries for everything I sewed last year. I keep forgetting just how much sewing I did! A major portion of that was working on improving my Venetian wardrobe.
A good friend of mine who is a workout and sewing buddy got married last April. She decided to have an in-garb wedding with a variety of times and places represented to represent her and her husband's interests within the SCA. There were Italian Renaissance outfits, Viking-era Norse outfits, Japanese outfits. I was both in the wedding party and a major contributor to planning and sewing of outfits for the non-sewers in the group. I pleated SO MANY THINGS in the lead-up to the wedding. Somehow I became the pleater-in-chief.
The bride's own dress was very much in the Florentine ~1480s style that my current outfit I am working on for IRCC is based on. For my bridesmaid dress I decided to revisit my circa 1500 Venetian outfit. I had not made anything in that style since the 12th Night Gown in 2015 and had learned a lot about patterning, fitting and draping self-supporting bodices since then. I felt that I could create something even better fitted than the previous gown. I also felt that I really needed an outfit in proper Venetian colors of red and gold. My own heraldry is blue and silver and I love those colors, but really reds and golds and blacks are so much more prominent in Venetian art. I needed at least one outfit in the correct color scheme. (The bride's colors for the wedding were autumn colors – reds and oranges, and the groom's were greens, so there was a large variety to work with as well.)
This is the outfit teased in this post. In addition to that outfit, I also sewed a dress in light rose pink based on the same pattern. I'm not a pink girl normally, but I was helping to run the Flamingo Ball at Pennsic last year and felt that a new ball gown to fit the theme would be appropriate. I made both gowns from saris bought from Miriam's fiber store the previous year for the purpose. I also ordered some gold silk from Dharma for the vestito (sleeveless overdress) I had intended to make to match both gowns. Finally, I sewed a third, very last-minute, dress in the same pattern out of a teal and white cotton print I found at JoAnn's on clearance and couldn't resist.

I worked with my sewing partner-in-crime, Lady Valla-Ragna in Spakka, to update the pattern first. We started from my bodice pattern from 2015. We cut a new draft of that and pinned it on me and made adjustments. And made more adjustments. I lost track of how many rounds of adjusting and recutting and testing new ideas we did before we were satisfied with the pattern. One of the things that we ended up doing that I'm not sure is historical is adding side darts. I simply could not get the fabric to not wrinkle on the side of my bust without them, no matter what we tried. There are two different variants on the bodice pattern, one with a higher neckline than the other. I didn't want to show cleavage for the bridesmaid dress so the red has the higher neckline and the teal and pink are the lower.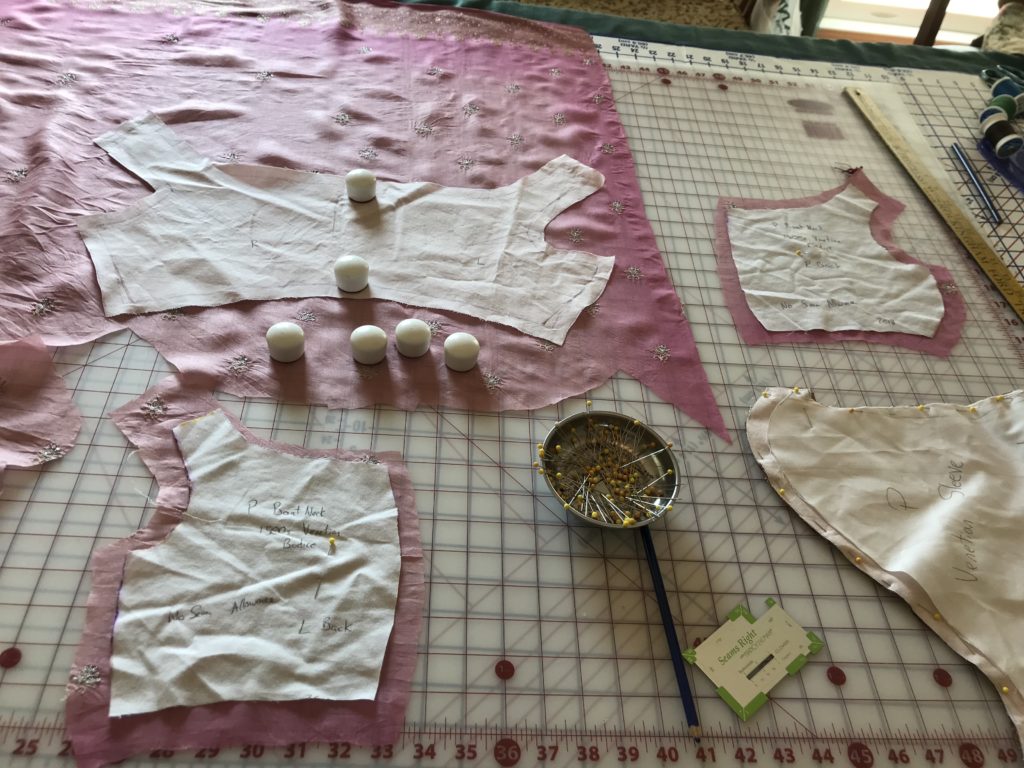 As I usually do with Italian gamurre the bodices of both gowns were lined with linen in similar colors to the silk and interlined with woven interfacing. The sleeves were lined but not interlined. The red silk was very pleasant to work with being a sturdier weave, actually a shot silk with red threads one way and black the other. The pink, which I picked mostly for color scheme, was very light weight and a looser weave. This made it rather a pain to work on.
stitch

and flip
Due to the differences in the fabrics I used two different construction methods in sewing the gowns. The pink being so much more difficult to work with, I used the sew, clip and flip method. I stitched the interlining to the lining fabric, then sewed that to fashion fabric and flipped to right side out. I top-stitched the edges. I then gathered the skirt and sewed that in to the waist. I find that very light fabrics gather more comfortably than they pleat. (You may notice in the pictures above that my pattern pieces are not symmetrical. Neither am I!)
sewing the bodice togehter

pleating the skirt

sewing down the lining over the skirt
The burgundy I used a slightly different method as you can see. This involve turning down the edges of the silk over the lining and hand-stitching it down. I also pleated the skirt to a tape first, then sewed it in to the bodice.
sleeve patterns

cutting pink sleeves

finished red sleeves
Sleeves! Sleeves have been my nemesis for a while now. The one thing I do love about Italian Renaissance clothing is that I don't actually have to care if the armscye and the sleeve head are the same distance around since they only attach at the top. We spent a good amount of time on draping a new sleeve pattern for this project. We started with getting a very tight-fitted sleeve pattern, and then worked on drawing the openings for the sleeve style that would show multiple poufs of camisa underneath for the burgundy gown. I decided to go for a different style on the pink, straight-edged sleeves with ribbons across. Both sleeve designs were inspired by the famous Carpaccio painting of two Venetian ladies on a balcony. The green and gold outfit her sleeves appear to be more cut with curves, like my red gown. The red outfit is what I based the sleeves on my pink gown off of.
Although I did start drafting the pattern for the gold silk vestito to wear over both outfits, I still haven't sewn it. My work on my dress for the wedding got delayed by my needing surprise hand surgery last March so I was rushing to get my gamurra finished. I used my existing black velvet vestito to complete the outfit for my friend's wedding. I wore the pink gown on it's own for the Flamingo Ball because I didn't want a third layer running a ball at Pennsic anyway.
gathering…

camisa!
I also sewed a new camisa to wear with the new gowns with a wide neckline fitted to this particular bodice pattern. I gathered it into a band made from the camisa fabric that I measured to fit the neckline.
bias tape to the rescue

stiffening the guard/hem of the gown

finished guard
Finally, the surprise gown. I was at JoAnn's buying the linen for the camisa and found this fabric on clearance. There was very little of it there, less than two yards, but the pattern was so very Italian Renaissance! and in some of my favorite colors! I bought it and determined to try and make a dress. I would make sleeves out of another teal fabric I had so I just needed enough for a bodice and skirt. This I did the laziest/quickest way possible for every step. Bias tape finishing the bodice! Use selvedges!
In the end, in order to make a skirt I had to do some interesting piecing to make a long enough back piece. I also added the guard of the same teal for the sleeves to make it a bit longer since I got it all cut out and discovered a miscalculation. It's also a bit tighter than I usually like skirts on these gowns to be. (My rule of thumb is minimum 3x my waist measurement.) However, I did get a dress out of it. I haven't sewn up the sleeves yet, I just wore it without sleeves as an informal day dress at Pennsic so far.
Reflections
Flamingo ball gown

Surprise dress

Bridesmaid dress
I am very pleased with all three gamurre that I made from this pattern. The pink one that I made for the Flamingo ball I think actually best captures the silhouette of the Venetian style, making my shoulders look long and droopy in a way they never normally do. The higher neckline on the red gown lessens that effect, although it still looks right to me. The cotton surprise gown was a great last-minute addition to my washable Pennsic wardrobe.
I didn't achieve everything I wanted and I still have work to do on each dress. I had intended to trim the neckline of the red gown with gold ribbon which I need to go back and do, as well as sew that gold vestito to wear with it. The black velvet one worked, but it is heavy and warm and less than ideal for summer wear. I need to actually sew the sleeves for the cotton gown and also fix some unraveling issues at the hem that showed up when I washed it after Pennsic. I also need to actually sew the eyelet holes for lacing on the Flamingo gown, I was just sewn into it for Pennsic as I was working on it right up to the night of the ball. (Mostly the gathering and sewing on of the skirt, that silk was such an enormous pain to work with.)
Overall, this project brought me a lot closer to having the correct clothes for my persona. I also made a lot of progress with drafting patterns so that I can easily make more gowns in this style.